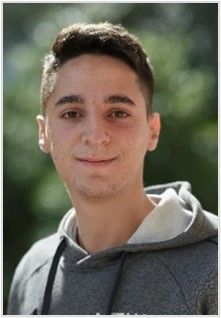 Bridge to opportunity
A gift for language allowed Joaquin Bravo to become a bridge for diverse and international students, helping them feel at home as Berry students. When he ran short on funds to pay tuition his senior year, alumni and friends became the bridge he so desperately needed.
Their gifts to the Save a Student Scholarship enabled him to graduate in May, preserving his dream of continuing his education with the ultimate goal of becoming an entrepreneur and making a positive difference in the world around him.
An exceptional student from Buenos Aires, Argentina, Joaquin transferred to Berry as a rising junior from a school in North Carolina with his sights set on a degree in international business. He was drawn by the college's reputation, its proximity to his aunt's home in Atlanta and a strong financial aid package. Berry's close-knit community, excellent business program and opportunity to engage in meaningful work soon made Berry feel like his home away from home.
Fluent in Spanish, Italian, French and English, he made the most of opportunities available through the college work program. By his second semester, he was a teaching assistant in the Spanish department, working the maximum number of hours allowed. The following year, he mentored and encouraged minority students as an associate with the Goizueta Scholars Program and planned activities and programming through Berry's new Student Diversity Initiatives Program.
Despite his hard work, Joaquin struggled in his senior year to make up the difference between his wages and scholarships and the cost of his tuition. When he realized he didn't have enough to get him to graduation, his heart sank. A naturally happy person, he became so overwhelmed with worry that he began losing sleep. Just as all hope seemed lost, a staff member pointed him to Berry's financial aid office, opening the door for him to apply for the Save a Student Scholarship.
"I was eating lunch with friends in Kilpatrick Commons when I got the email," he remembered, a smile lighting up his face. "I just started shouting and jumping, I was so excited. It was the best news I'd received all year. I am so grateful to the donors who gave from the kindness of their hearts. I would not have been able to finish my studies without them."
You have the potential to make a difference right now with a gift of any size.