IRA Helps Fund Scholarship
If anyone understands the life-changing power of scholarships, it's Gary Waters.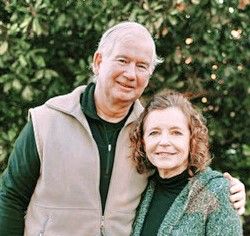 Gary personally received help from scholarships while a student at Berry College, saw the impact of scholarships on students and families in his work as Berry's vice president for enrollment management, and witnessed the joy and satisfaction of scholarship donors when he was vice president for advancement (Berry's fundraising office). When Gary realized he was able to make that kind of difference for Berry students using funds from his IRA, he didn't hesitate.
Partnering with his in-laws, Roger and Elaine Estill, and taking advantage of an anonymous donor's match, the three established the Bambi Estill Waters Endowed Scholarship, in honor of Gary's wife, a Berry alumna, and the Estills' daughter. The scholarship is part of the family of Griswell Scholarships honoring Berry graduate and former board chair, the late Barry Griswell, who rose from a difficult childhood to Fortune 500 success. Griswell Scholarships provide generous financial aid to students of great need who have risen above challenging life circumstances.
"It's something I've been wanting to do for a while now," Gary said. "And my in-laws, who are generous, caring people, have given to Berry for a long time. My father-in-law had even been asking me about starting a scholarship. When I heard about the matching gift opportunity, I knew it was a fantastic window of opportunity for us to do something significant.
"It comes down to a value proposition," Gary continued. "When your essential financial needs are met, you have choices on what to do with your money. This is a choice that both Bambi and I believe was one the best expenditures we could have ever made."
Gary credits his "incredibly savvy" professional financial advisor, who also is deeply committed to Berry, with helping him work through the details of how to make a tax-free withdrawal from his IRA for a charitable contribution. He says the process couldn't have been easier. He was even able to complete the paperwork on his own, with only a minimal amount of help from his financial advisor.
And while Bambi was 100% supportive of the idea of funding a scholarship, she had no idea it would be named in her honor, that is, until the recipient was announced at the Dream Maker Scholarship Luncheon earlier this year.
Bambi remembers her reaction after hearing the announcement. "I was quite surprised! I wasn't expecting it at all. I was very moved that my husband and parents would name a scholarship in my honor. It's a privilege for both of us to give back to Berry. It's not about me but about what the money will do to help students in the future, and that means a lot to all of us."
LEARN HOW YOU CAN LEAVE YOUR LEGACY
Establishing a bequest at Berry College is easy — just adding a few sentences to your will is sufficient. Helen Lansing, Berry's senior planned giving officer, can help guide you through the process. Including Berry in your estate plan has no effect on your current financial position and can have the added benefit of reducing estate taxes for your loved ones.