Martha Berry Society
CONTINUING THE WORK.

The Martha Berry Society is a special group of alumni and friends whose collective generosity ensures that Berry remains a place of opportunity for students. Combined, Martha Berry Society members account for more than 90% of all giving to Berry.
When you join or renew your annual membership in the Martha Berry Society each fiscal year between July 1 and June 30, you stand alongside philanthropic giants of our past as loyal, generous friends who continue to invest in Berry and our students.
Martha Berry Society members support life-changing scholarships, first-class learning facilities, challenging academic programs and other innovative initiatives. We are grateful for how you give faithfully, year after year, to support our unique education of the head, heart and hands, ensuring a Berry education remains distinct and accessible to students from all walks of life.
If you have questions about the Martha Berry Society or wish to discuss renewing your support or becoming a new member, contact Allison Hattaway, Assistant Director of Stewardship at ahattaway@berry.edu or 706-236-2286.
BENEFITS OF MEMBERSHIP
All members, including those in the Young Alumni Leadership Giving Circle, receive the following:
• Decal signifying level of giving
• Member-only communications
• Recognition in Berry magazine and online
• Personal assistance with Berry matters
Discover additional benefits for each level below: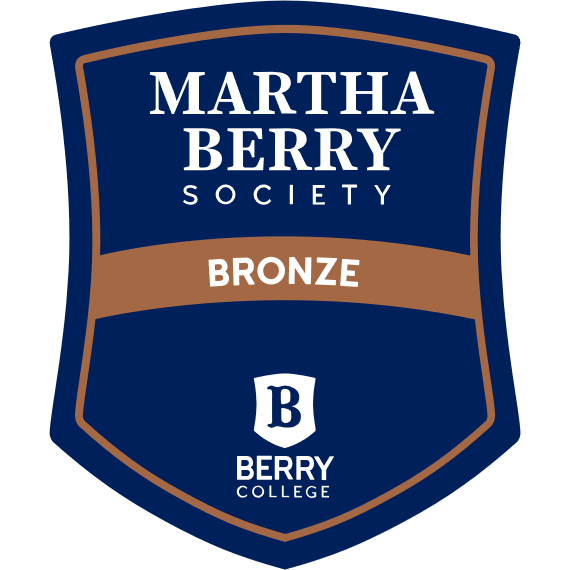 BRONZE
$1,000 - $4,999
Discount card providing 10% off merchandise at Berry Enterprises "Shipyard" Store; good for one-time use in store or online; maximum value $20, per IRS guidelines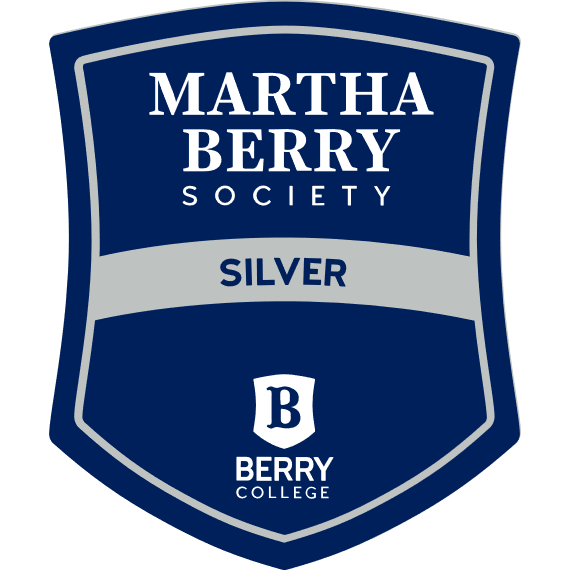 SILVER
$5,000 - $9,999
Invitation to Gloria Shatto Lecture and dinner
Discount card providing 15% off merchandise at Berry Enterprises "Shipyard" Store; good for one-time use in store or online; maximum value $50, per IRS guidelines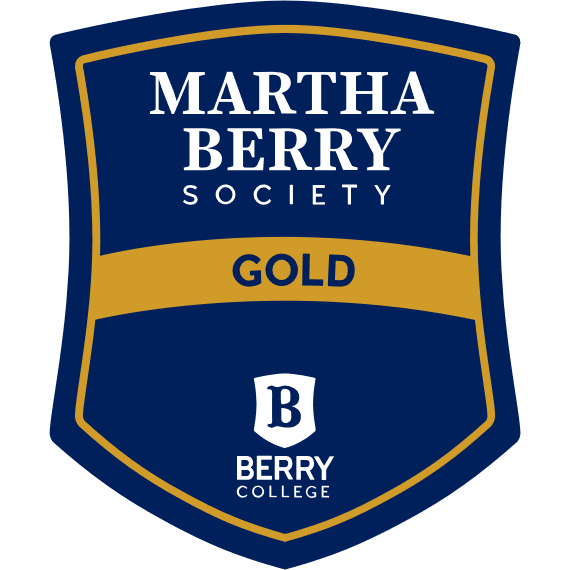 GOLD
$10,000 - $24,999
Invitation to Evening of Honors
Invitation to Gloria Shatto Lecture and dinner
Discount card providing 20% off merchandise at Berry Enterprises "Shipyard" Store; good for one-time use in store or online; maximum value $75, per IRS guidelines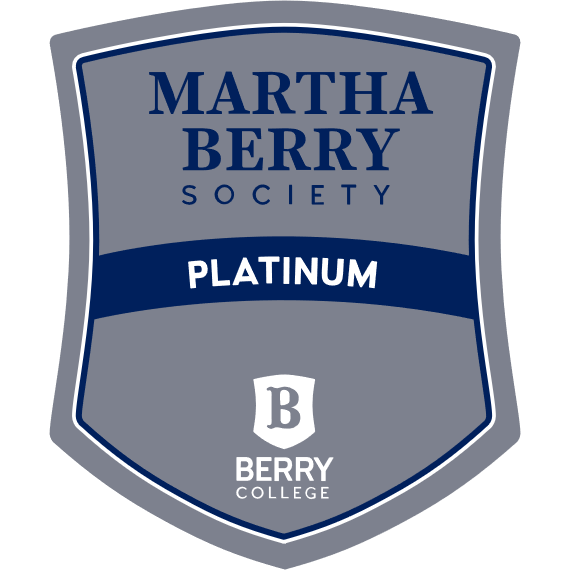 PLATINUM
$25,000 and above
Invitation to select events
Invitation to Evening of Honors
Invitation to Gloria Shatto Lecture and dinner
Campus gate pass good for one year
Discount card providing 25% off merchandise at Berry Enterprises "Shipyard" Store; good for one-time use in store or online; maximum value $100, per IRS guidelines
Find out how you can join the Martha Berry Society today
Contact Allison Hattaway, Assistant Director of Stewardship