My Berry Family
Many Connections.
One Family.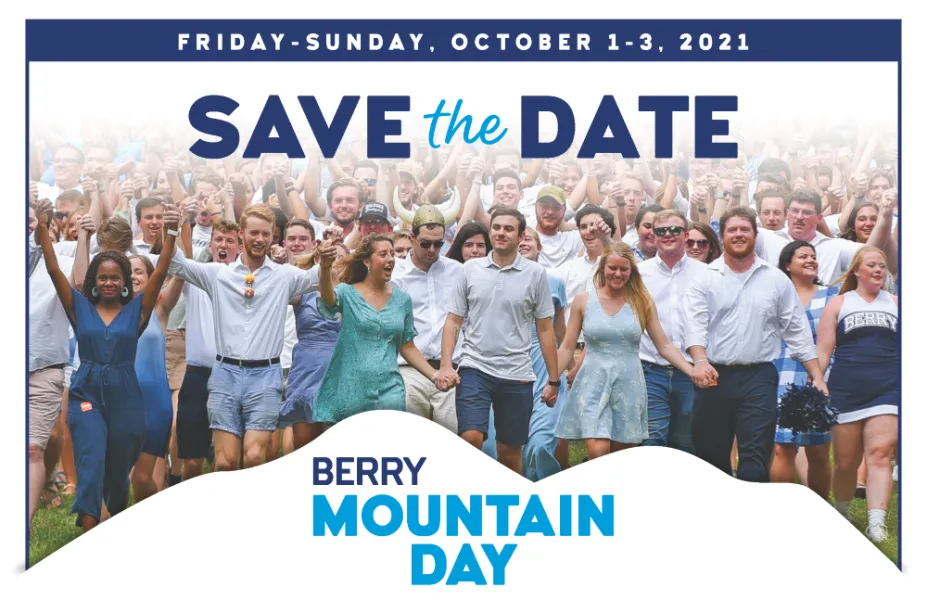 SAVE THE DATE: Mountain Day weekend is October 1-3, 2021!
We are so excited to welcome alumni and friends back to campus this year for a Mountain Day weekend full of fun events, including reunions, athletic events, a delicious picnic, the Grand March (of course!), and lots more!
Make plans to join us on the mountain on Saturday, October 2. We'll also have additional special events on Friday, October 1, and Sunday, October 3. More details will be shared in the coming weeks, so stay tuned!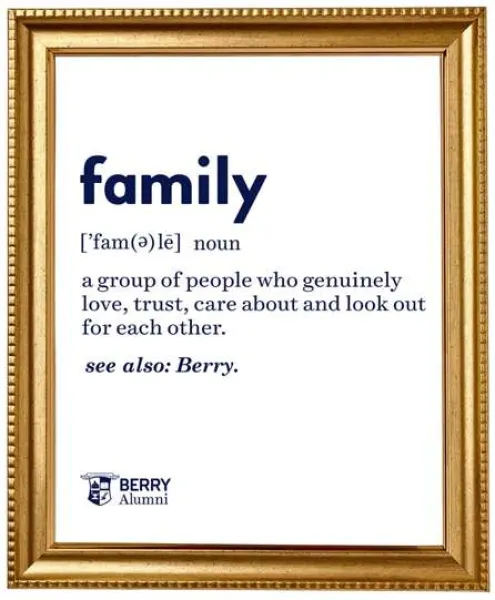 A family is a group of people who genuinely love, trust, care about and look out for each other, just like those of us in the Berry community.
We all have valued relationships and life-long connections because of Berry. From coaches to classmates, siblings to spouses, we share bonds that hold us together even today. We're in each other's lives, supporting and showing up for one another, because we're family.
Over the next few months, we're excited to shine the spotlight on some of your Berry families. On this page, you can:
Share your #MyBerryFamily Story!
Tell us about your Berry family for a chance to be featured on @BerryAlumni's social media AND to win a Berry Alumni sweatshirt!
A Berry Family Tradition
Ellen Summerlin (18C) and Benjamin Minor (19C)
SEE MORE FROM ELLEN AND BENJAMIN

"A Berry Family"
Get to know Ellen and Benjamin
With the marriage of Benjamin and Ellen this year, the Summerlin-Minor extended family now includes 20 recent Berry alumni, plus even more names that harken back to the days when Martha Berry taught the children of Trapp Holler.
Ellen's parents Keith (89C, 02G) and Amy Brock (92C, 97G) Summerlin went to Berry, as did her brothers Jake Summerlin (16C) and Matthew Summerlin (12C), plus Matthew's wife Elise Maciantonio (13C, 17G). On Benjamin's side, Berry grads include his sister Kathleen Minor (19C), plus his maternal grandparents Don (58C) and Typhnes "Feenie" Fish (58C) Midkiff, his great uncles/aunts Ronald (57C) and Nancy Garner (57C) Midkiff; Ellender "Ellen" Fish (53C) Lee and her husband Donald E Lee; and Sandy Midkiff (60C) Cooper and John (62C) Cooper. Benjamin's first cousin Maggie Midkiff (17C) Maddrey and her husband Russell Maddrey (17C) also went to Berry; and second cousins Brenda Fish Hunter (69C) and Anelia Williams Campbell (64C) are also part of this special club.
The plethora of shared Berry connections with all these family members yielded many positive benefits for this pair - both alums felt they were able to quickly fit in during their time at Berry as students. Ellen had some of the same professors as her parents, and she even lived in the same residence halls. Her campus job at Oak Hill was where her older brother previously worked. And Benjamin was able to attend school at the same time as his sister, while the two siblings recognized important spots on campus about which their grandparents had described special memories.
In bringing their families together, the couple says they "weren't nervous at all about everyone getting along," realizing the many things their extended family of alumni has in common.
WATCH MORE #MYBERRYFAMILY VIDEOS
Watch videos featuring Berry alums who turned into family.
Bob Williams (62H) and Tom Butler (65A)
"Introduction"
"Coach Jerry Shelton"
"Berry Breakfast Club"
Gloria Vaughn Jackson (72C) and Michelle Jackson Little (12C)
"Introduction"
"Like Mother, Like Daughter"
BRANDON (14C) AND CHARLOTTE COLLINS (14C) DAVIS
"Introduction"
"Berry Mentors"
Colleen O'Neil (14C) and Brandi Tyson (14C)
"Introduction"
"Secret Talents"
"Berry Mentors"
Al (61c) and Becky Browning (61C) Christopher
Building a Family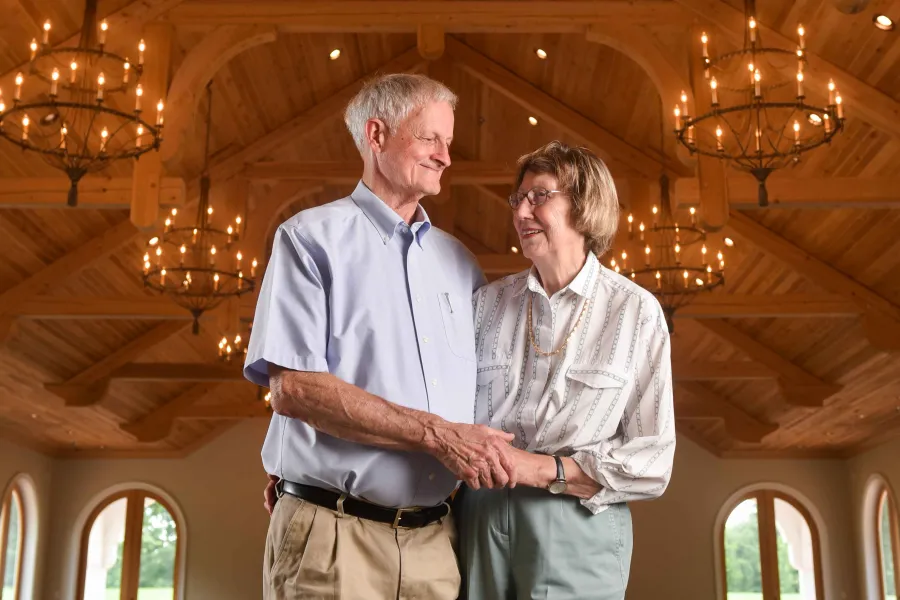 Get to know the Christophers
Al Christopher (61c) only spent one year at Berry before transferring to a school closer to home so he could look after his ailing mother, but that was more than enough time to form a family connection that would last a lifetime - a family of friends that included Becky Browning (61C), the woman who would become his wife.

READ MORE #MYBERRYFAMILY STORIES
Hear stories from Berry alums who turned into family.
Who's in your Berry family?
#MyBerryFamily
Tell us about your Berry family using the form below! Submit your response by 11:59 p.m. ET on Wednesday, June 30 for a chance to win one of 15 exclusive Berry Alumni sweatshirts not available anywhere else!
#MyBerryFamily
Join the conversation on social media!
Tell us about your Berry family! From classmates to mentors to siblings and more, many of us have long lists of people who make up our "Berry Family." Tell us about yours by posting on social media using #MyBerryFamily!