THE GIFT OF OPPORTUNITY CHANGES LIVES
This holiday season, we hope you will join us in ensuring that the gift of opportunity remains available to deserving students. This special gift, which Martha Berry first provided over a century ago, continues to transform lives and provide bright futures for hardworking Berry students like the Widner sisters below.
Lilah Widner arrived at Berry dreaming of a future as a primary care physician serving rural communities like her South Georgia home. At Berry, the pre-medicine major with minors in chemistry and music found a supportive community that helped her thrive. Seeing Lilah flourish, sister Callie - younger by just 13 months - followed in her footsteps.
Their family knew it would be a challenge to afford college for both daughters at the same time. Mom, a teacher and school administrator, and Dad, owner of a plumbing and air conditioning business, worked hard to make it possible. Then, the unexpected happened. As they prepared to move Callie to Berry, the girls' dad grew sick with COVID-19 and was unable to work for some time. The family's plans seemed to unravel.
Thankfully, the generosity of our Berry family provided Lilah and Callie with scholarships to help meet their need. Now, two and a half years later, both sisters are on track to graduate in May with bright futures ahead. Lilah has been accepted into two medical schools, and Callie is completing a major in communication with an eye toward a career in brand marketing. None of this would have been possible without the support from alumni and friends like you.
"We knew being at Berry together as sisters would be great, but we never imagined we would gain this incredible Berry family that would help make these opportunities possible for us. We are so grateful!"
Lilah and Callie Widner
GIVE THE GIFT OF OPPORTUNITY THIS HOLIDAY SEASON
Please consider extending the gift of opportunity to students like Lilah and Callie (above). Your generosity has the power to transform the lives of hard-working students - a hallmark of Berry since Martha Berry first taught lessons to rural youth at Possum Trot, the cradle of Berry College.
Recurring Gifts
Recurring giving is an easy and affordable way to maximize your support of Berry students. This option allows you to increase your total contribution through smaller monthly, quarterly or annual installments. Your online donation is secure and flexible. A gift of $1,000 or more entitles you to membership in the Martha Berry Society.

Crowdfunding
We invite you to help empower Berry students to thrive and create a lasting impact in their communities and world through BERRYfunder, our current crowdfunding campaign. There are a diverse array of projects, each with the potential to transform the lives of our students, enrich their college experience, and strengthen our institution.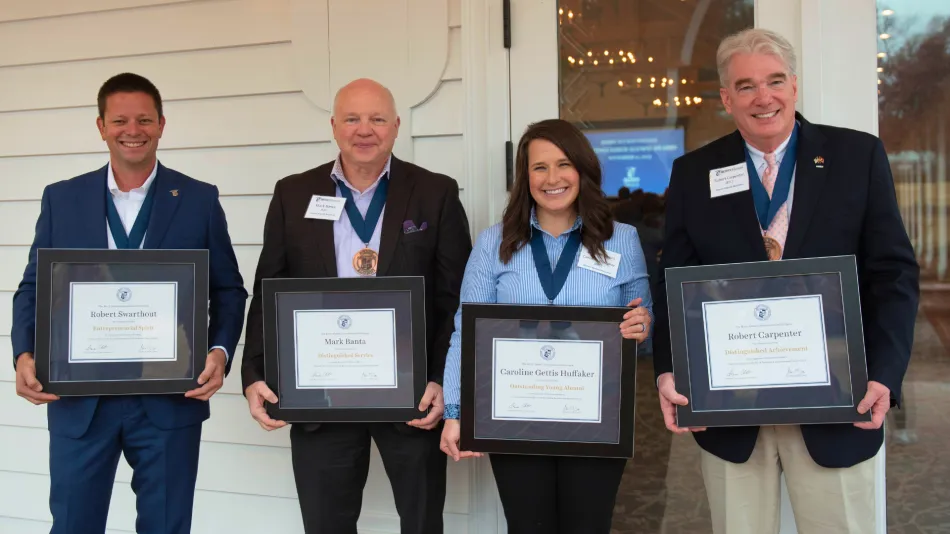 2023 Distinguished Alumni Award Winners
Each year, the Berry Alumni Association honors outstanding alumni with four Distinguished Alumni Awards. Congratulations to this year's award winners:
Robert Carpenter (87C) - Distinguished Achievement Award
Robert Swarthout (04C) - Entrepreneurial Spirit Award
Mark Banta (82C) - Distinguished Service Award
Caroline Gettis Huffaker (09C) - Outstanding Young Alumni Award
@BerryAlumni
Join the conversation on social media by using #AlwaysBerry