Young Alumni Leadership Giving Circle
Martha Berry Society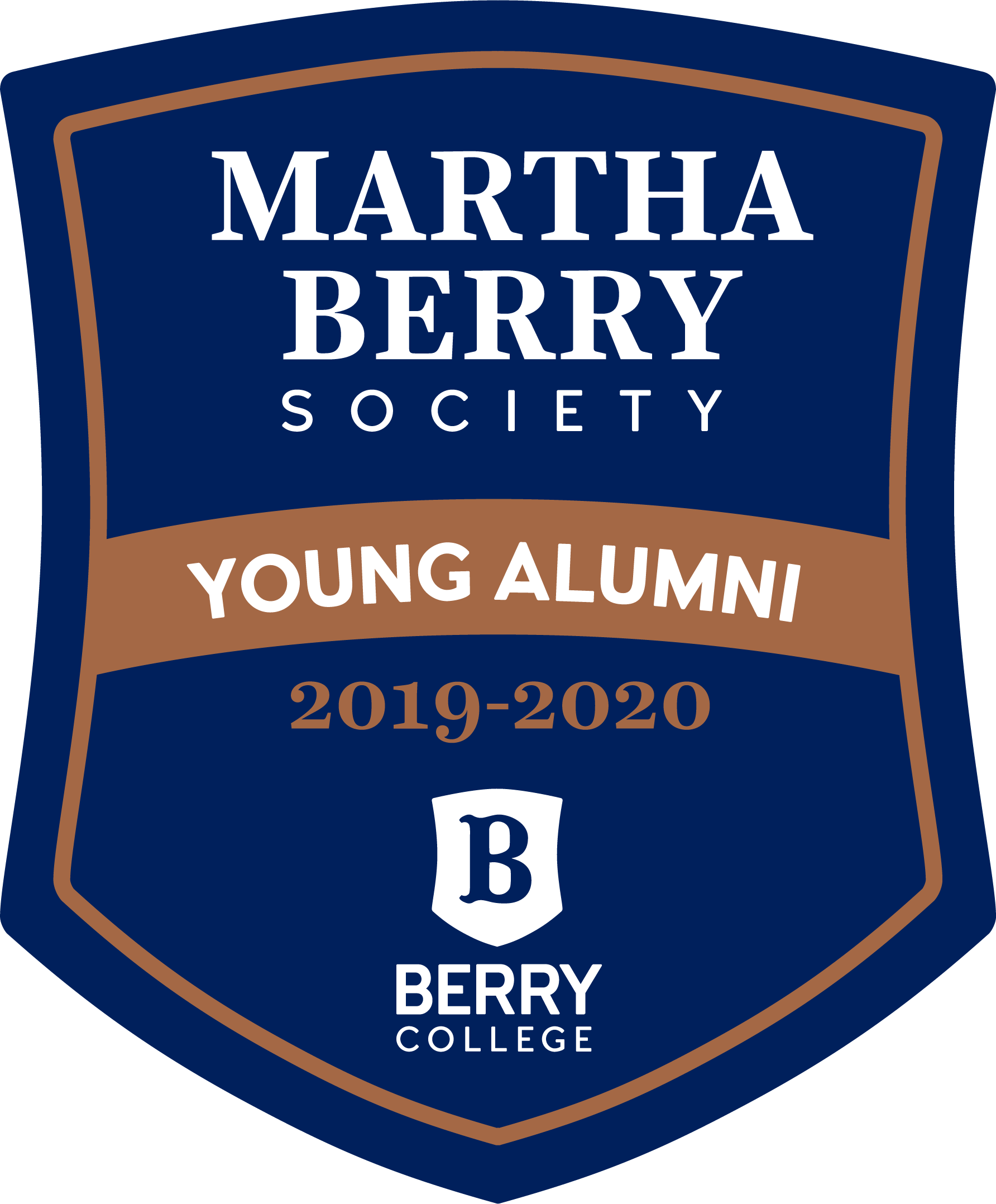 This year we are pleased to launch a new recognition program under the umbrella of the Martha Berry Society for young alumni (10 years out or less) who are claiming Berry's mission as their own - the Young Alumni Leadership Giving Circle.
This designation honors young alumni whose giving is equivalent to that of a $1,000 annual donor.
There are three levels, based on age and stage of life:
$100 annually ($8.33 monthly) for alumni 1-5 years out
$250 annually ($20.83 monthly) for alumni 6-8 years out
$500 annually ($41.66 monthly) for alumni 9-10 years out
All members of the Young Alumni Leadership Giving Circle receive the following benefits:
Decal signifying level of giving
Member-only communications including leadership updates and Berry email news alerts
Year-end report highlighting the giving impact of Martha Berry Society members
Recognition in Berry magazine and online
Personal assistance with Berry matters through director of donor relations and stewardship
If you have any questions about the Young Alumni Leadership Giving Circle or would like to discuss renewing your support or becoming a new member in 2020-21, contact Director of Donor Relations and Stewardship Brenda Jenkins at bjenkins@berry.edu or 706-378-2868.
2019-20 YOUNG ALUMNI LEADERSHIP GIVING CIRCLE
(Equivalent to $1,000 annual donor)
Alex Denzik Alewine (10C)
Shakarah Boswell (16C)
Jordan Brannen (17C)
Josh Bullock (17C)
Mary Cerny (17C)
Aaron (15C) and Lizzie Hendrix (15C) Chastain
Parker (17C) and Carroll Autry (16C) Clavijo
Leah Cobb (17C)
Anthony and Kerrie Hartline (17C) Dalrymple
Holly Davis (14C)
Jacob Delk (18C)
Matt Farinella (16C)
Jess Gross (17C)
Blake (15C) and Brittni Dulaney Hall
Ty Hampel (16C)
Chris (14C) and Kimberly Bagnell (14C) Human
Dale Jackson (17C)
Stephen Jenkins (15C)
Hunter Jones (16C)
Cameron Kapperman (13C)
Rachel LeRoy (15C)
Ashley Swanson Lingerfelt (15C)
Tommy McCloskey (16C)
Drew McCollum (17C)
Megan Michel (18C)
TJ Montgomery (17C)
Hannah Parker (18C)
Sunday and Funmi (18C) Peters
Elizabeth Ragland (18C)
Joy Schmidt (11C)
Maggie Stansell (17C)
John (10C) and Courtney Toth (10C) Tatum
Erika Bunpermkoon Thurman (13C)
Zach Valentine (16C)
Miranda Vega (19C)
Mike (14C) and Chrissy Ricketts (15C) Voso
Graham (18C) and Joanna Logan (18C) Wall
Anna McNulty West (16C)
Lydia West (17C)
Porter Wilbanks (19C)
Cate Williams (19C)
Kayli Wilson (16C)
Logan (15C) and Abbie Smith (17C) Yerbey