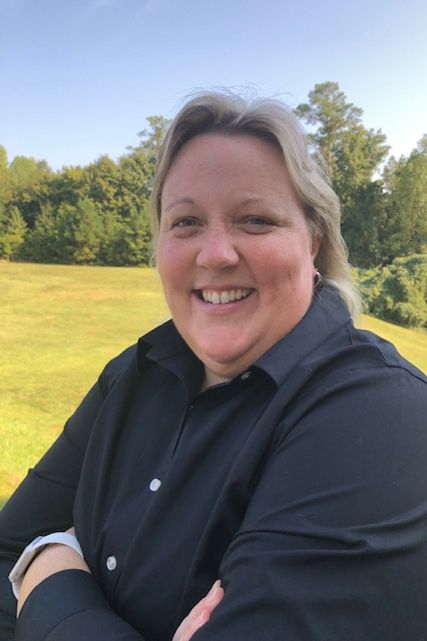 2021 Distinguished Alumni Award Winner: Distinguished Achievement
Bridgette Stewart (98C)
Bridgette Stewart's career in higher education has spanned over 20 years. Throughout that time, her focus has been on experiential learning, developing a curriculum and opportunities to help student growth, both professionally and personally.
A forward-thinking leader who is committed to the personal attention for each student in her program, she makes sure to create environments where students feel at home and connected. Students trust that she will provide the best and most relevant opportunities for practical learning.
"My students inspire me daily to be the best professor and leader I can be," Bridgette said. "Higher education is more than just developing knowledge and skill. It is about helping students find their journey and their motivation to be the best they can be. Serving them so they can serve others is my purpose in life."
As the founding director of the Wolf Wellness Lab at the University of West Georgia (UWG), she created an experiential space for student learning and wellness development for faculty, staff and community. She is also program director of UWG's Health and Community Wellness degree. Most recently, she was named a chancellor's learning scholar for the University System of Georgia at the UWG.
Bridgette was also recently appointed to serve on the board of directors for the National Wellness Institute (NWI), the leader in providing professional development and engagement opportunities to the wellness community. Within that organization, she serves on numerous committees, including chairing the Council on Wellness Certification Education, which created the country's first set of competencies for wellness professionals.
In 2017, she was selected for the NWI's prestigious Circle of Leadership award. Inductees serve as ambassadors for NWI and its programs and assist in spreading the wellness message throughout the world.
Bridgette was the first-ever leadership associate on the board of directors of the Southern District of Health, Physical Education, Recreation, and Dance, assisting board members in the development of innovation projects at the thirteen-state regional level. In 2016, she was elected president of the Georgia Association for Health, Physical Education, Recreation, and Dance.
In 2015, she was awarded the University of West Georgia's J. Owen Moore faculty alumni award as an outstanding professor for teaching and service. That same year, she received UWG's College of Education Outstanding Service award. In 2013, Bridgette received UWG's College of Education Excellence in Teaching award.
Find out how to nominate a Berry alum for a Distinguished Alumni award here.