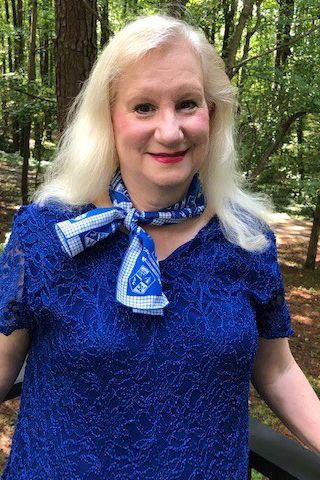 2021 Distinguished Alumni Award Winner: Distinguished Service
Patricia Jackson (82C, FFS)
Patricia Jackson is a retired educator who taught students with disabilities and supervised special education and teacher training programs for 32 years in the Cobb County, Ga., school district. She is a tireless volunteer in her church, community organizations, private and public schools and for her beloved Berry.
She was named a tribute honoree in 2018, as part of the Women of Achievement recognition program by liveSAFE Resources, a social services organization in Marietta, Ga.
Patricia has served the Cobb County Center for Excellence in the Performing Arts Parent Organization as a parent volunteer, donor and co-chair of silent auctions several times. She also has supported Samaritan's Purse, including Operation Christmas Child, Project Nehemiah, and Greatest Journey, a mission project; the MNA Disaster Response Warehouse; Smyrna MUST Ministries; First Care Women's Clinic; Campus Outreach and the Atlanta Ballet.
"I am appreciative of Berry's role in my life and how, along with my faith, it has made me service-minded," she said. "Whether I'm packing flood buckets, collecting operation Christmas Child shoe boxes, or selling shirts at the Mountain Day alumni tent, I like to find multiple ways to serve."
She has served several terms on Berry's Alumni Council, including terms as president and vice president. She has been a class reunion coordinator multiple times, a member and guest speaker for Daughters of Berry and has supported the Charter School of Education and Human Sciences, where she served as an adjunct instructor, developing undergraduate and graduate level courses on the identification of and provision of services for students with disabilities.
Patricia has attended Smyrna Presbyterian Church since 1984, serving as president of the women's organization, leader of the women's circle, special events coordinator, vacation Bible school co-director, co-leader of missions campaigns, Sunday school teacher and choir member numerous times.
She has been a parent volunteer, president of the parent organization and trustee on the school board at Covenant Christian School, during which time she was given the Covenant Christian School Service award. Her volunteer work at other various local schools includes service to the HAVEN Academy, Osborne High School and Fair Oaks Elementary, where she has provided teacher training and gifts to staff and specific classes
Find out how to nominate a Berry alum for a Distinguished Alumni award here.