IRA gift keeps on giving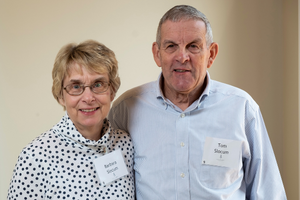 When David Slocum (00C) graduated from Berry bound for medical school, parents Tom and Barbara knew they wanted to show their gratitude for the education he had received. They were aware that their giving would have tax benefits, but they never imagined it had the potential to help countless students graduate with little or no debt.
"Barbara and I learned of the Gate of Opportunity Scholarship and knew immediately that this was how we would like to give back to the school," Tom explained.
The couple began contributing to the scholarship program on a year-to-year basis using a qualified minimum deduction from their IRA paired with a corporate match from Tom's employer. Additional matching funds from an anonymous friend of Berry amplified their support, enabling two students to receive funding.
The Slocums were so impressed with their scholarship recipients, Aaron Chastain (15C) and Colby Weldon (19C), that they continued to fund their scholarships until they graduated. Then they decided to make their giving more permanent, fully endowing a Gate of Opportunity Scholarship.
"There was a void after our students graduated," said Barbara. "They told us that college wouldn't have been possible if we had not given to Gate. How often are you able to give to something that you care about and see the fruit of that gift? Yes, you are giving to someone else, but it is also a blessing to you."
The IRA provision that the Slocums tapped into (QCD) allows donors 70½ and older to "rollover" up to $100,000 ($200,000 if married filing jointly) directly from an IRA to a qualified charity without paying income tax on the funds. This tax-saving option is often utilized with required minimum distributions (RMDs).
"Giving in this way allows us to get to know some of the students as they go through Berry rather than waiting to give to Berry after we're gone, plus the financial benefits are significant," said Tom. "This makes our gift permanent, sooner."
The Slocums now make their home at The Spires at Berry College, living only a short distance away from David, an emergency room doctor at Redmond Regional Center, and his family, including wife Christy (01C), who works at WinShape, and the couple's four children. The happy retirees enjoy afternoons entertaining their grandchildren after school and look forward to getting to know Hannah Horton, their current Gate Scholar.
To learn more about how you can use your IRA to support Berry students and secure important tax benefits, download this guide or watch this short video.
LEARN HOW YOU CAN LEAVE YOUR LEGACY
To learn more about the benefits of the IRA charitable rollover provision, contact Helen Lansing, Berry's senior planned giving officer, at hlansing@berry.edu or 706-378-2867.