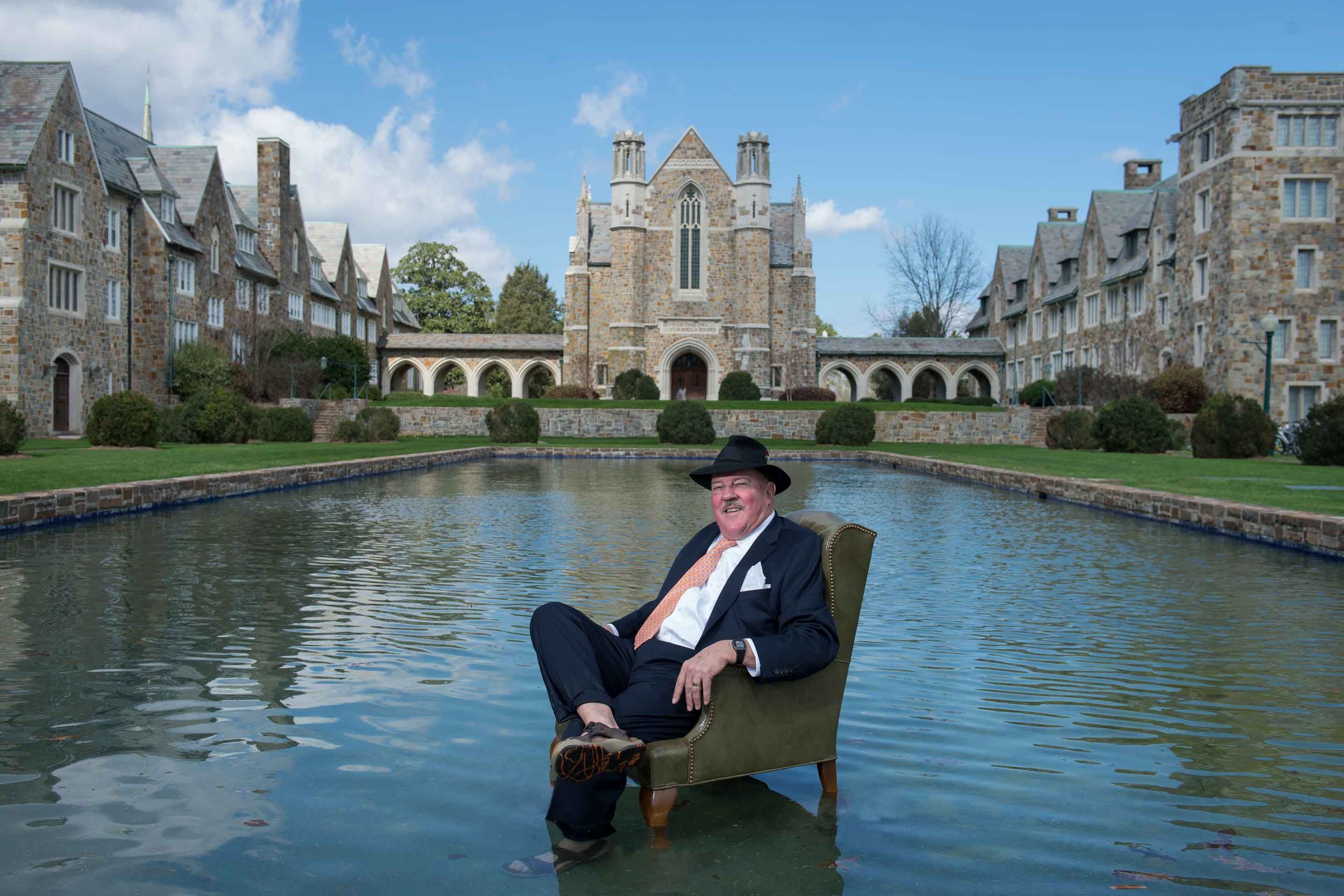 When "Rowdy" Rusty Bradley (71C) dressed head-to-toe in toilet paper and marched in the Ford quad with a group of male merrymakers boisterously spelling out Martha Berry's name to the tune of Mickey Mouse, no one expected the tale to be told in print more than 40 years later. And surely no one who participated in or witnessed the revelry ever expected the fun-loving, naysaying, rule-breaking rascal to one day become a champion for his alma mater.
Surprise!
Bradley's unauthorized - if harmless - exploits at Berry may not be legendary, but they surely are remembered by more than a few because they were so public. Like the time he joined upperclassmen William Todd (69C) and David Lewis (69C) in planning and executing a rush of the Ford Gymnasium floor dressed as Berry cheerleaders, a daring act at the time that "real" Berry cheerleaders are rumored to have assisted. And although Bradley insists no flips, cartwheels or dance moves were involved, the trio was successful in revving up the basketball crowd.
"Someone said, 'Let's put on our white Levi's and navy sweaters and go be cheerleaders!'" he laughed, remembering the party-style planning session in which the idea was hatched.
There was no doubt back in those days that then-President John Bertrand knew exactly who to look for when a prank had been pulled or that "Bad Boy Bradley" was not particularly appreciative of the education he was receiving. Oh, how times have changed!
Today, Bradley is owner of Property Advisory Corp., an Atlanta-area firm that appraises commercial property nationally. His wife of many years, Priscilla, is secretary of the corporation, and the couple has two grown children and two grandchildren. Bradley also is a dedicated volunteer, actively serving Emory St. Joseph's Hospital in Atlanta as director of courtesy cart operations and the National Park Service at Kennesaw Mountain National Battlefield Park as a historian.
And Bradley today is a major supporter of Berry College, contributing financially, providing internships for students, and attending every home football game.
"I didn't appreciate the school when I was there," he confessed. "It was years later that it dawned on me what a wonderful school I went to. I love visiting now; it is like going home."
A donor since 1985, Bradley has focused on supporting athletics (he ran track for two years as a student) in addition to the general fund and has made an unrestricted gift of life insurance. For just the price of the policy premium each year, he will ensure that Berry receives a much greater gift - $100,000 - upon his death.
"I knew of someone who gave a gift of life insurance to Georgia Tech and remembered it for years as a great thing to do," he said. "I did it for Berry when I could, and it was a wonderful feeling."
Thinking back on the vastness of the Berry campus and the knowledge he gained working on the farm crew - "There should have been credit for it because I learned so much!" - Bradley asked and then answered an important question: "Where else can you get the kind of education you get at Berry? Nowhere!"
His advice for fellow alumni is simple: "Reflect on all you received at Berry, the great things we learned over and above school work. That is worth more than your degree. So support Berry. Start small and build. Don't forget where you came from. Give a little bit every month or every year. It is a satisfying, good feeling."
Somewhere up in heaven, John Bertrand has a smile on his face - and Martha Berry likely does too.
Making a gift of life insurance is easy and enables donors to give much larger gifts in support of Berry students than they ever thought possible. And, if Berry owns the policy, premium payments are considered charitable gifts for tax purposes. For more information, contact Helen Lansing at hlansing@berry.edu or 706-238-2867.