A Winning Team: Three Berry Brothers On and Off the Field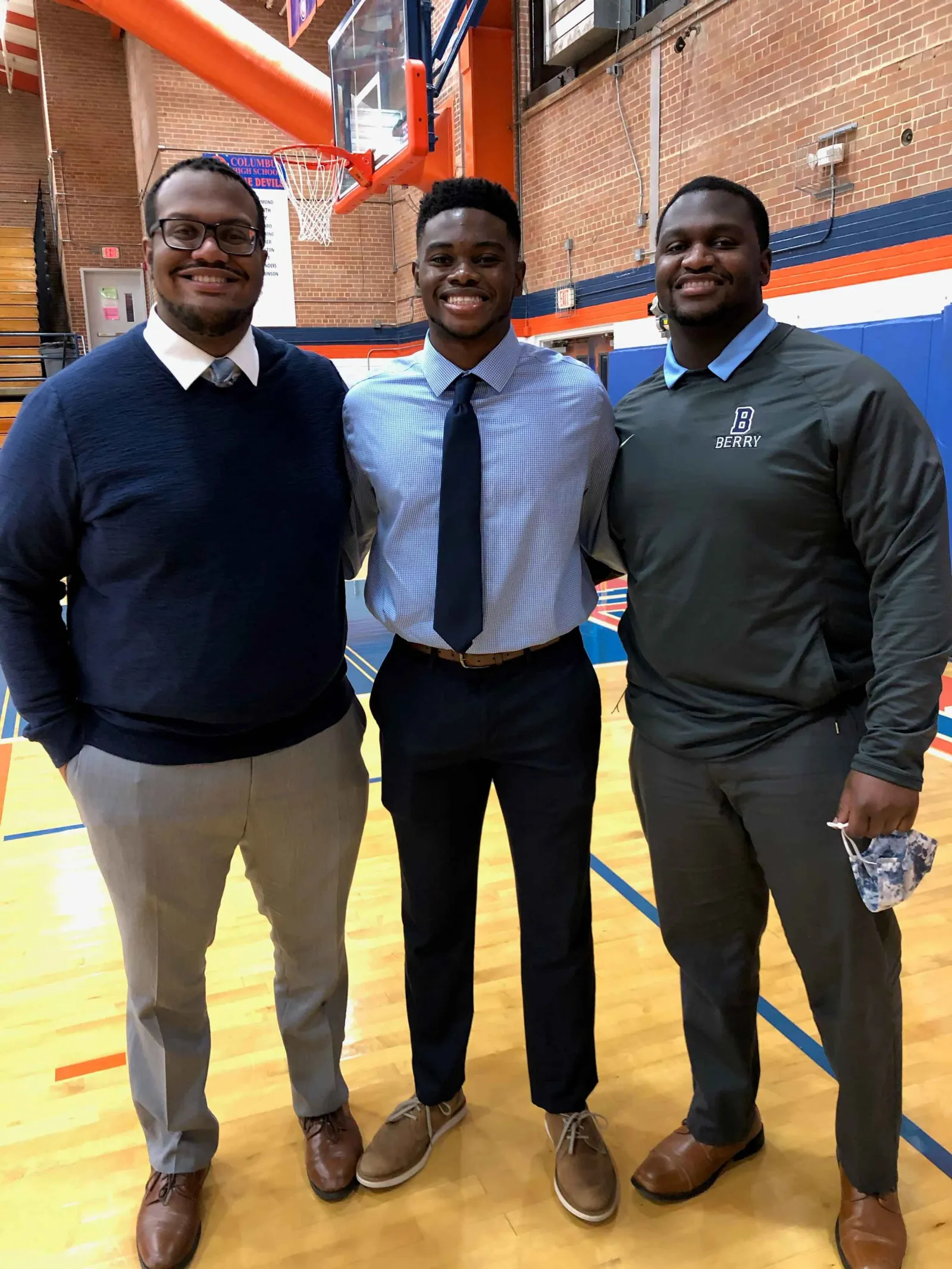 In 2013, Teddy Palmer (17C) came to Berry to play football in the first year of the program. Three years later, his younger brother Brandon (20C) joined him on the team. And this fall, the youngest Palmer, Nick (25c), will suit up in a Vikings uniform. For these three brothers, Berry football has played a key role in shaping their college experiences, creating family memories and forging meaningful friendships.
Teddy remembers hearing that Berry was going to have a football program and that got him interested in attending the school. "When I came to tour the campus, I was hooked," said Teddy. "I liked the idea of being part of something special [the new team], and I got the feeling from everyone I met that the Berry community would offer me many opportunities."
Celebrating their First Win
One of the most special memories Teddy has from his time on the field was as a sophomore in the 100th Mountain Day football game. It was the first win for the team, in overtime, on the centennial celebration of Mountain Day. "I remember everyone rushed the field when we won, and fireworks were going off." The Vikings won 29-23 that day against Washington (Mo.) in Barron Stadium, (the temporary home field for the Vikings before Valhalla Stadium had been built). "We marched as a team earlier that day on Lavender Mountain, and I think it was the only time the team ever got to march on Mountain Day. And we had hotdogs before the game. We kept saying after we won that we had to keep having hot dogs before every game after that," said Teddy.
By the time Brandon was considering colleges, Berry had become a top football contender in the SAA. "I liked the idea of coming to play football for a team that could win," said Brandon. (His high school team in Columbus, GA, had experienced a disappointing couple of seasons). As a Berry freshman, he was on the same team as Teddy (a senior at the time), although the two were both injured that year and had to sit out much of the season. "We both suffered PCL tears in our knees," said Brandon. While injuries sidelined the Palmers that season, Brandon was luckily able to go on to enjoy three healthy years playing for the Vikings after that.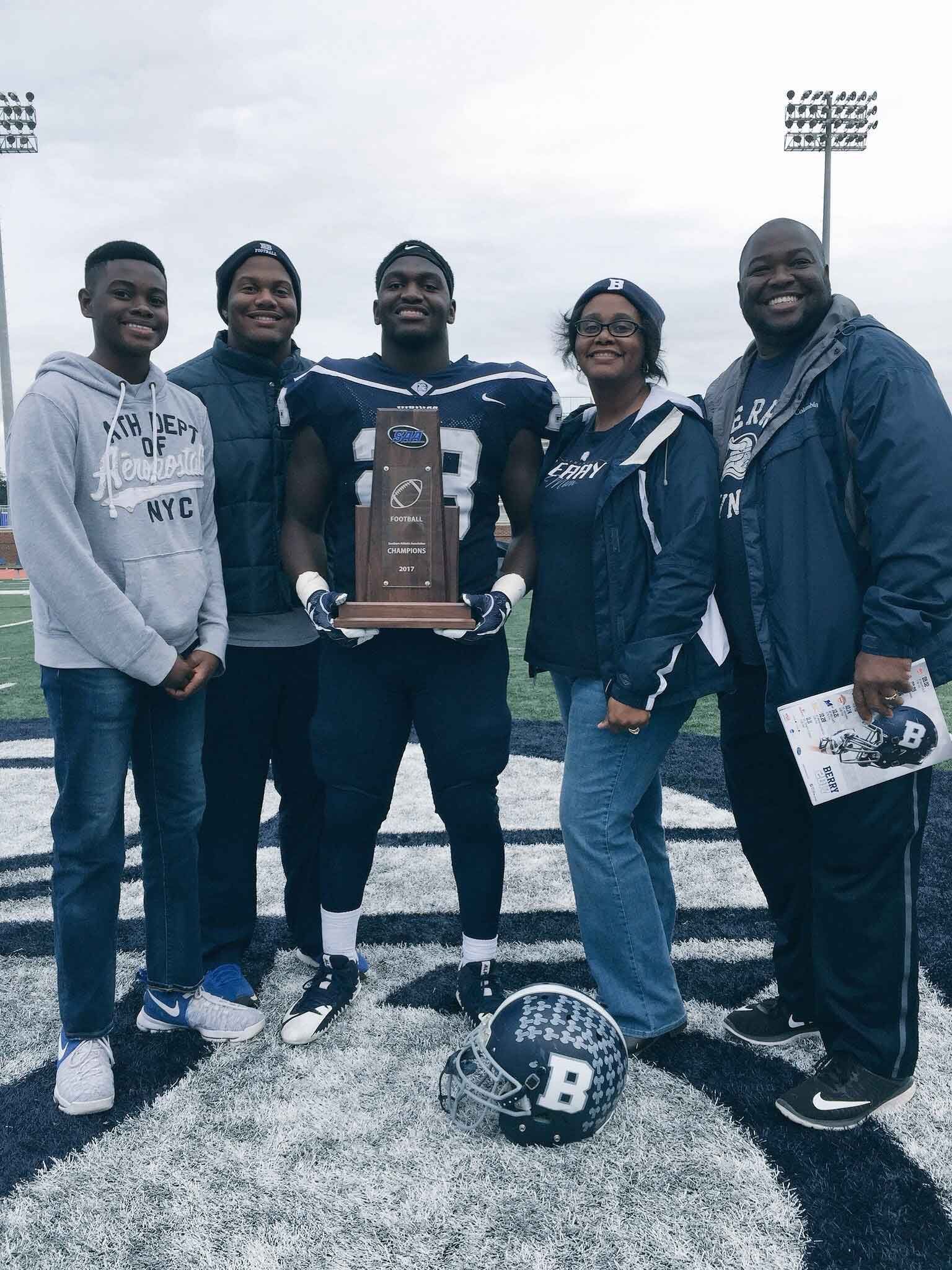 A Family Tradition
For the Palmer family, football games have always been a tradition. From Teddy's games to Brandon's and soon Nick's, the Palmer brothers and their parents have consistently cheered on and supported each other. Ted and Regina Palmer have been very involved as football parents and have become part of the close-knit Berry athletics family. You can't attend a home or away game without seeing the Palmers showing up for their sons.
Beyond the gridiron, Teddy and Brandon both say that their "family" also includes several other people from various campus networks. Teddy became close to his teammate Adam Hubert (17C) through Men's Ministry; Kassie Jones (18C) through SGA and Brent Dotson (17C) through KCAB. He also met his wife, Julie Brophy Palmer (18C) during his time at Berry. Brandon made close relationships through Men's Ministry, as well as through SOAR and his work position with the athletics department. He says he considers Lindsey Taylor, Derek Taylor, Ginger Swann (93C) and Angel Mason all to be part of his Berry family.
The Next Viking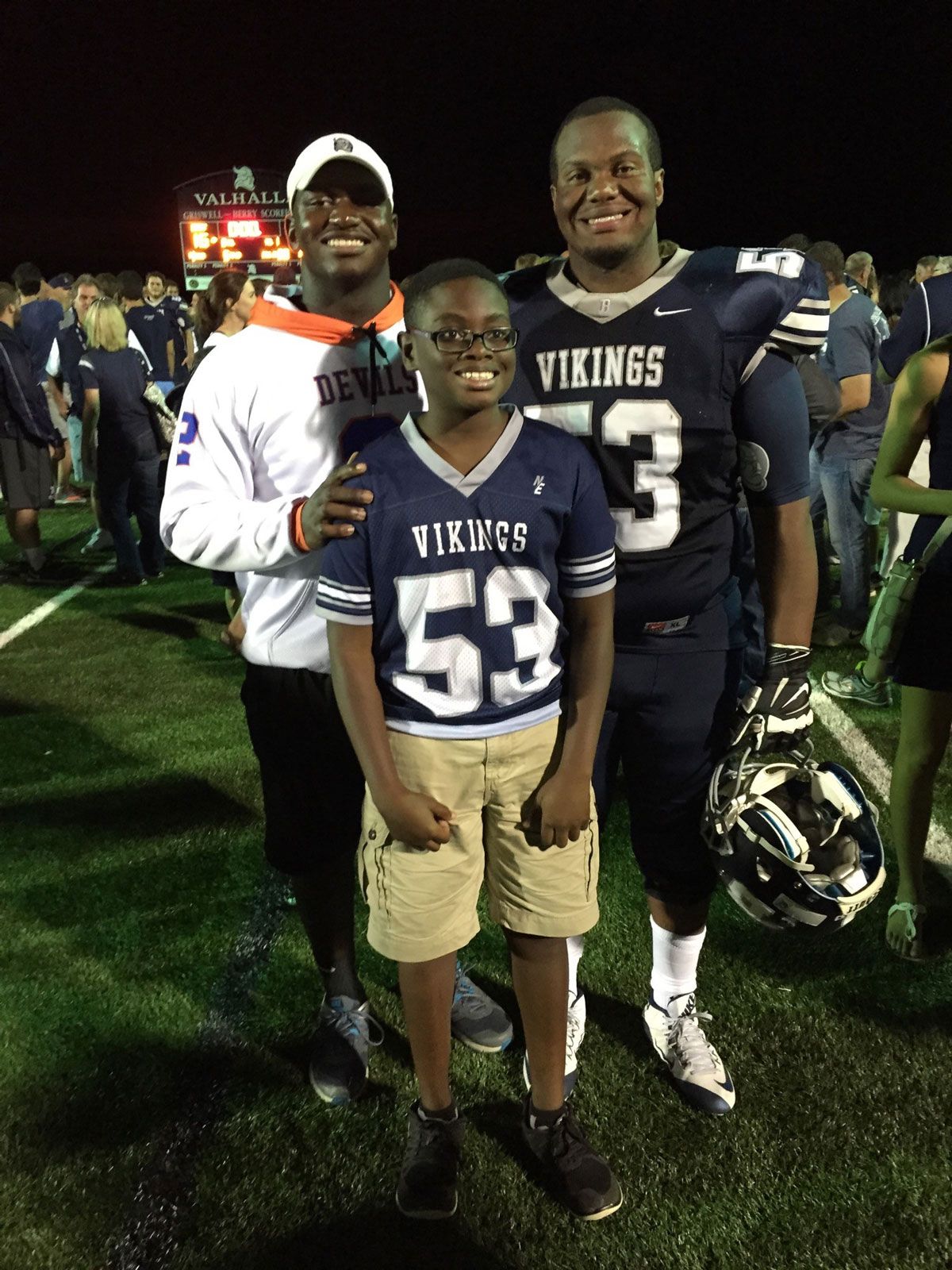 Now, everyone is ready for Nick to attend Berry. The youngest brother became familiar with the school through football, of course, but also through visiting and interacting with the Berry community, thanks to his brothers' connections. "Berry is Nick's home," said Teddy, "He's grown up at Berry." Since he was 13 years old, Nick has helped out with KCAB's Casino Night. Teddy first volunteered his little brother to help set up the event back in 2016, while Nick was in town as part of a recruiting trip for Brandon. And every year until 2021, Cecily Crow (94C) and Lydia Gordon have made sure he's been an honorary KCAB volunteer.
Today, Teddy is working for Dollar General in Atlanta as a talent acquisition recruiter. Brandon is still at Berry, working as a grad assistant for Residence Life and studying for his MBA. This fall, Nick plans to take lots of math and science courses when he arrives, as he thinks architecture or civil engineering may be his chosen field.
Support Your Berry Family Today!
Make your gift of opportunity today to support hardworking Berry students. Thank you for making a difference!