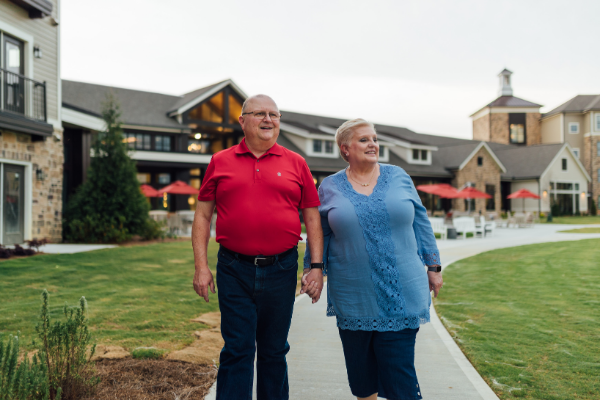 Paying it forward
Ask Sam (76C, 78G) and Nancy Duvall (77C) Ratcliffe to share their best memories of Berry, and both reference strong mentors, meaningful work experiences, lifelong friendships and an education that didn't stop at the classroom door.
Ask them why Berry is now a beneficiary of their estate, and it's clear they want future students to enjoy that same type of transformational experience.
With help from the college's planned giving team, they have identified giving vehicles that will allow them to maximize their generosity to Berry while also accomplishing their own financial goals.
"Our bequest allows us to establish our own legacy of service and giving at a place where service and giving are both encouraged and modeled," Nancy explained. "The charitable gift annuities provide us with a tax advantage and a competitive rate of return."
As residents of The Spires at Berry College, Sam and Nancy are thrilled to once again be living on the campus where they first met. As members of the Berry Heritage Society, they are excited to be leveraging their assets in a way that ultimately will benefit Berry students.
"We are blessed to be able to spend our 'golden years' at Berry, the place that shaped our lives so dramatically," Nancy said. "And we want to share the fruits of our life's work with those students who will be here long after we are gone."
As students, Sam and Nancy took full advantage of the opportunities Berry provided. Sam, an interdisciplinary studies major with an emphasis in political science, served as SGA president as an undergrad and later earned his MBA through the business school. Nancy, meanwhile, was an English major and education minor who honed her writing and editing skills working as a tutor and as news editor of the Campus Carrier newspaper.
Both went on to successful careers, Sam with Eckerd Drug and McKesson pharmaceuticals, Nancy as a longtime teacher who currently serves as Northwest Georgia member services representative for the Professional Association of Georgia Educators.
Now they are back on campus and investing in the lives of students, both through their giving and other activities, including Nancy's service on the Alumni Council.
"I think I've got some things I need to pay forward," Sam said. "Berry was very good for us. I'd like for other people to have that same opportunity."
Nancy agreed, adding, "We were fortunate enough to have the financial means to go to Berry without additional support, but there are so many kids today who don't have that opportunity. They need to be able to experience for themselves what Berry did for us."