Martha Berry: A Vision and a Mission
Martha Berry Society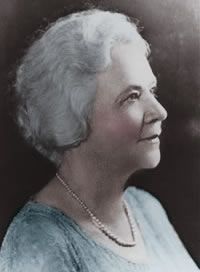 Martha McChesney Berry founded the Berry Schools for academically able but economically poor children of the rural South—those who usually could not afford to go to other schools. These schools of the early 1900s grew within three decades into Berry College, a comprehensive liberal arts college. As a result of her 40 years of work with the schools and college, Martha Berry is among Georgia's most prominent women of the first half of the 20th century.
BERRY FAMILY
Martha Berry was born on Oct. 7, 1865, in Alabama to Thomas and Frances Margaret Rhea Berry. The family moved when she was still a baby to Rome, Ga., where she lived for the remainder of her life. Martha's father operated a plantation and was a partner in Berrys and Company, a wholesale grocery and cotton brokerage business in Rome. In 1871 he purchased a residence located approximately two miles north of downtown Rome, which was later known as Oak Hill.
Young Martha lived there with five sisters, two brothers and three Berry cousins whose parents were deceased. Educated by a governess and tutors at home, she attended the Edgeworth School, a finishing school in Baltimore, Md., for less than a year. She received no other formal education but traveled around the country and to Europe on several occasions.


FOUNDING OF THE SCHOOLS
Martha Berry was very devoted to her father, and she rode horseback along with him into the nearby hills and mountain areas, visiting with poorer landowners and tenant farmers. Her father often assisted these families with their needs, and Martha developed a desire to help them also. She never married, choosing instead to make this desire her life's work.
In the late 1890s Martha met three young boys crossing the family's property near Oak Hill on a Sunday afternoon. She learned they did not go to school or Sunday school. They were not familiar with basic stories from the Bible, so she entertained them with some of these stories. She invited them to return the next Sunday with their brothers and sisters. Soon whole families filled a small log cabin that had been built years before near Oak Hill as a playhouse for the Berry children and later served as a quiet place for Martha to read, write and contemplate. When the group overflowed the cabin (which still stands), she built a small whitewashed school building across the highway from Oak Hill on 83 acres of land given to her by her father. She also used an abandoned church a few miles away at Possum Trot, and two other facilities were located at Mount Alto and Foster's Bend. These four Sunday schools grew into day schools for the children.
Martha eventually concluded that, in order to have sufficient impact on the children, she needed to keep them at the schools rather than have them live at home. She had a dormitory built, and on Jan. 13, 1902, she opened the Boys Industrial School with five boarding students on the land near her home. After the school was incorporated the next year with a board of trustees, she deeded the 83-acre tract to the corporation. This school later became known as the Mount Berry School for Boys, and on Thanksgiving Day 1909 she opened the Martha Berry School for Girls approximately a mile from the boys' school. These were high schools also offering lower-level studies in the early years. The Berry schools became models for vocational, agricultural and mechanical schools throughout the world by showing how the needs of people in poor rural areas could be met. Through her schools Berry blazed a trail for the establishment of an agricultural and mechanical school in each congressional district of Georgia.
In 1926 she established Berry Junior College, which in 1930 expanded into a four-year school. The high schools were closed in later years following Berry's death in 1942. The college has continued its founder's focus on providing students with a comprehensive education of the head, the heart and the hands. Her motto still endures: "Not to be ministered unto, but to minister."

EARLY SUPPORTERS
Martha Berry traveled widely, seeking support for her schools and became an accomplished fundraiser.
She obtained money for the operation of the schools, the construction of numerous buildings, the purchase of additional lands and the establishment of an endowment for future support. Many of the gifts were small, but she also received support for the schools from such people as philanthropists Andrew Carnegie and Emily Vanderbilt Hammond, automotive pioneer Henry Ford, U.S. president Theodore Roosevelt and U.S. president Woodrow Wilson's wife, Ellen Axson Wilson, who was a native of Rome. The institution purchased adjacent farms and forests, accumulating nearly 30,000 acres during Martha's lifetime.

HONORS RECEIVED
Although she was never a college student, Berry was awarded honorary doctorates by eight colleges and universities: Bates College in Maine, Berry College, Duke University in North Carolina, Oberlin College in Ohio, Oglethorpe University, the University of Georgia, the University of North Carolina and the University of Wisconsin.
During her lifetime she also received honors from the Georgia General Assembly, the (Theodore) Roosevelt Memorial Association, Pictorial Review, the Colonial Dames of America, Variety Clubs of America, American Institute of Social Sciences and numerous others. She was appointed to the initial Board of Regents of the University System of Georgia and was chosen in a Good Housekeeping magazine contest as one of America's 12 greatest women.
Martha Berry continued to be honored after her death on February 27, 1942. Her grave site near the Berry College Chapel is marked by the Atlanta Gas Light Company's first posthumous Shining Light Award. The Georgia segment of U.S. Highway 27 was designated as the Martha Berry Highway, her portrait was hung in the state capitol's Gallery of Distinguished Georgians, she was included among the inaugural inductees into Georgia Women of Achievement and she was selected for induction into the Agricultural Hall of Fame at the University of Georgia.
Martha Berry Society Annual Giving Levels
Discover exclusive benefits for each level