Mountain Day 2020
Virtual Celebration for Alumni
The alumni celebration of Mountain Day may be virtual this year, but that's not going to stop us from making it one to remember! Read on to learn about the great fun we're going to have together, even while apart.
All month long, we encourage you to:
Plus, join us on Saturday, October 10 starting at 10:30 a.m. ET for a kick-off video with a special announcement from Berry President Steve Briggs, tons of virtual events (with fun door prizes), photos from fellow alums featuring their at-home celebrations and much more!
As a reminder, the Berry College campus remains closed to the public - including alumni - until further notice for the health and safety of the campus community.
Mountain Day Merchandise
Everything you need to celebrate Mountain Day at home
Virtual Events
Connect with classmates & celebrate Mountain Day from home
Mark your calendars - Mountain Day is almost here, and this year, you can participate from anywhere in the world!
RSVP today to join fellow alumni and friends for virtual events all day long, including a mega reunion for all class years, special 50th reunion for the Class of 1970, a fun lecture on the history of Mountain Day, Mountain Day Trivia and Class of 2020 Cupcake Happy Hour & Bingo.
Milestone Reunions
Share Memories & Photos with Your Classmates
We're excited to be celebrating milestone reunions for the Classes of 1980, 1995 and 2010!
(Plus, the College Class of 1970 has a special Zoom reunion! Learn more and RSVP here.)
RSVP for your Facebook event below to reconnect with classmates, share photos, enter exclusive photo contests and much more. We have fun posts and challenges planned in these Facebook events all month long leading up to our virtual mega reunion on Saturday, Oct. 10. RSVP to your milestone reunion below so you don't miss any posts!
Social Media Contests
Submit your photo for a chance to win!
Use #cupcakesformartha or #mtnday20 for a chance to win some big prizes, including Berry Alumni items from the "vault" (yes, even the Old Mill and Ford mugs!), the Ultimate Berry Fan Pack (featuring a Victor plush toy, cooler tote, pom poms and more!), one BIG prize that we'll announce on Mountain Day and much, much more!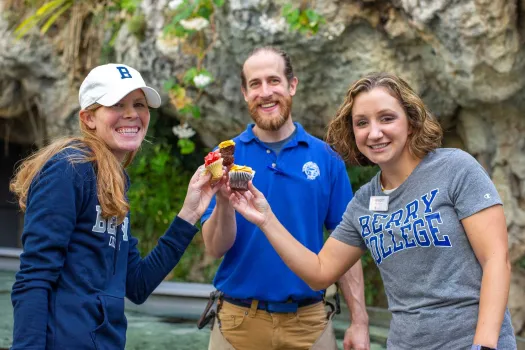 #cupcakesformartha
Raise a cupcake for Martha Berry!
Mountain Day is a celebration of our founder's birthday, and how better to celebrate than with cupcakes?! Grab a cupcake, take a pic and post it on social media using #cupcakesformartha between now and October 7 at 11:59 p.m. ET for a chance to win. More details coming soon.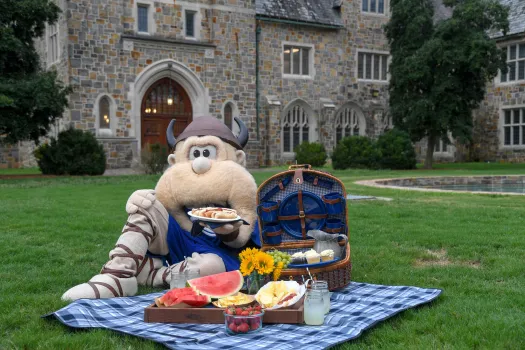 #mtnday20
Bring the celebration home!
Show us how you're celebrating Mountain Day! Take a selfie in your new Mountain Day shirt, show off your picnic spread, replicate the egg toss in your backyard ... the possibilities are endless! Post a photo on social media using
#mtnday20
between now and October 11 at 11:59 p.m. ET for a chance to win.
More details coming soon.
Relive Mountain Day Memories
Take a look back at recent Mountain Day celebrations!
Mountain Day 2019
Mountain Day 2019: Student Vlog
Mountain Day 2018
Mountain Day 2017
Mountain Day 2015
Mountain Day 2014
Frequently Asked Questions
Get answers to all of your Mountain Day 2020 questions!
Can I visit campus during Mountain Day?
For the health and safety of our community, the campus is closed to visitors with the exception of faculty, staff and students who support the core educational and operational functions of Berry College. Visit Berry Healthy Together for more information.
Is all of Mountain Day virtual?
With continued uncertainty surrounding the COVID-19 pandemic and a growing number of cases across our state and region, college leaders have decided to host a virtual Mountain Day celebration for alumni on Saturday, Oct. 10. A final decision for students and parents will be made closer to the event date.

When are you choosing the contest winners?
We will announce some of our contest winners on Mountain Day (October 10), and will announce all other winners within 1 week of Mountain Day. The "Fan Favorite" winner for the #mtnday20 contest will be announced the week of October 19 to allow time for voting.
How do I create a Zoom account to attend a virtual event?
Before joining on either your computer or mobile device, you will need to download the Zoom app from their Download Center here: https://zoom.us/download
It is free to create a Zoom account. Though you do not need an account to participate, it is highly encouraged.
When do I have to order my merchandise?
For the best chance of your items arriving by Mountain Day, please order by 11:59 p.m. ET on Monday, September 28.

What if I have more questions?
THANK YOU TO OUR 2020 MOUNTAIN DAY SPONSOR
Plainville Brick Company, Inc.
The relationship between Plainville Brick and Berry traces back to the early 1900s, when Martha Berry would drive her Ford to visit owner Newt Legg to discuss the building materials she needed for campus.
Since those early days, the company has continued to support Berry's construction needs and has also funded scholarships for students in need. Many buildings on our campus have bricks supplied by Plainville Brick - one of the most recent projects being the restoration and repair of Krannert Center.
Thank you to Plainville Brick for all you've done for Berry students over the years, and for helping make our 2020 Mountain Day possible!
#mtnday20
Join the conversation