SILVER & BLUE ALUMNI WEEKEND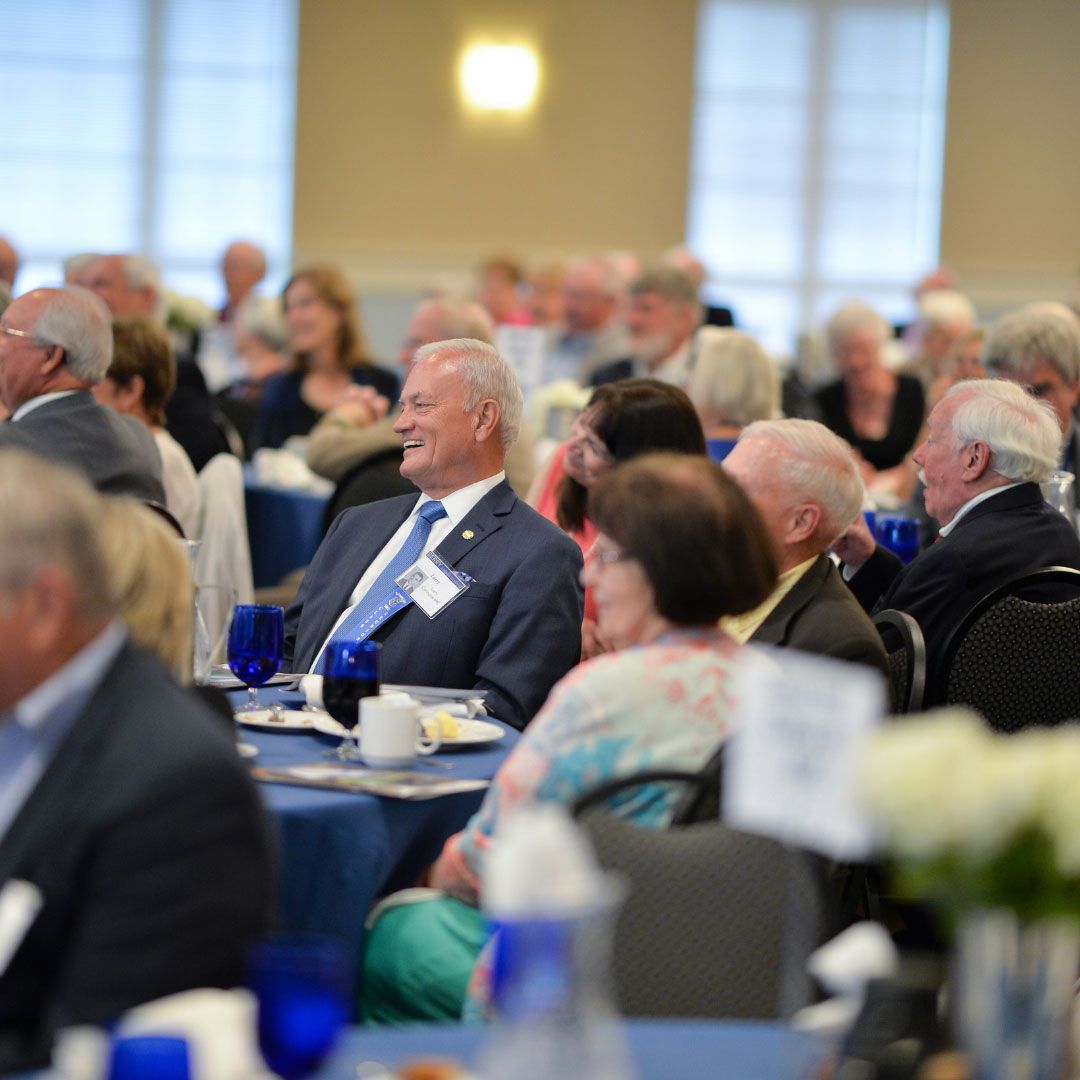 FRIDAY, MAY 20, to SUNDAY, MAY 22
All alumni from the classes of 1971 and earlier are invited - with special reunion dinners held on Friday night, and activities for all to enjoy on Saturday and Sunday.
ALUMNI WORK WEEK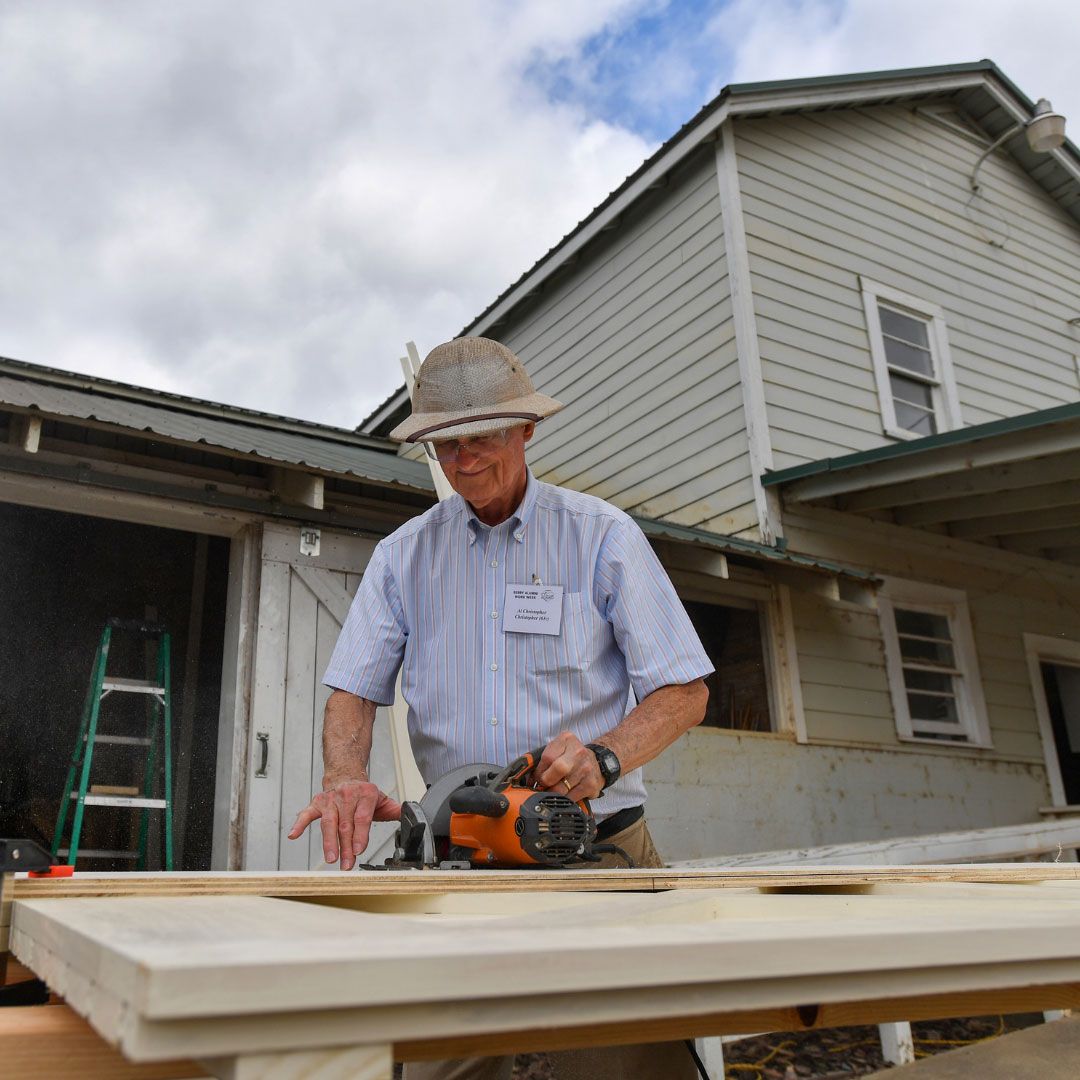 MONDAY, MAY 23 to FRIDAY, MAY 27
As one of our most honored and distinctive traditions, Work Week is a special way for alumni and friends to enjoy fellowship while also giving back to Berry.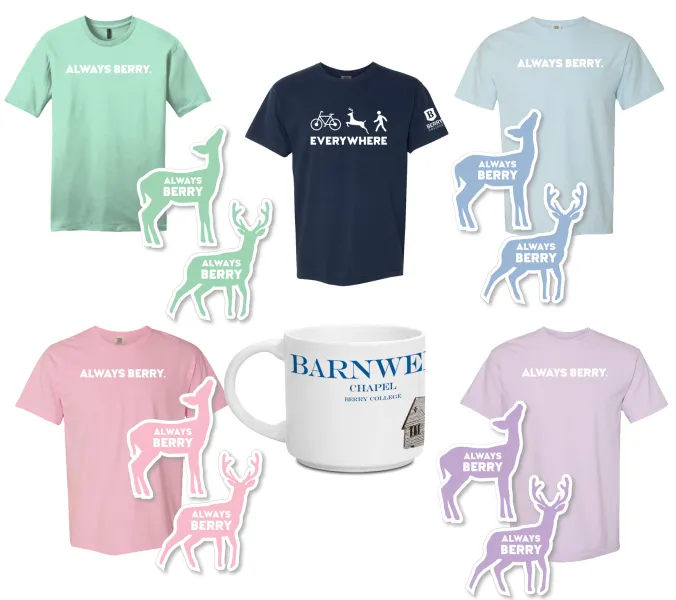 Exclusive Berry Alumni Merchandise
For A Cause
This year's merchandise includes:
NEW Pastel Always Berry t-shirts (A twist on the classic design! These new pastel colors are popping in purple, blue and pink. Plus, we brought back last year's mint green shirt as part of the summer palette)
NEW "Everywhere" t-shirts (Featuring a play on the "cyclists, deer, pedestrians everywhere" traffic sign on campus)
NEW Pastel Always Berry stickers (Great for adding a bit of Berry to your laptop or water bottle)
Always Berry cow family and deer family magnets (So you can complete your collection)
The FOURTH mug in our Berry Building series (Featuring the iconic Barnwell Chapel)
And by popular demand, the first three mugs (Ford, Old Mill and Frost Chapel) as a set!
These items are only here for a limited time, so order your new Berry alumni merchandise today!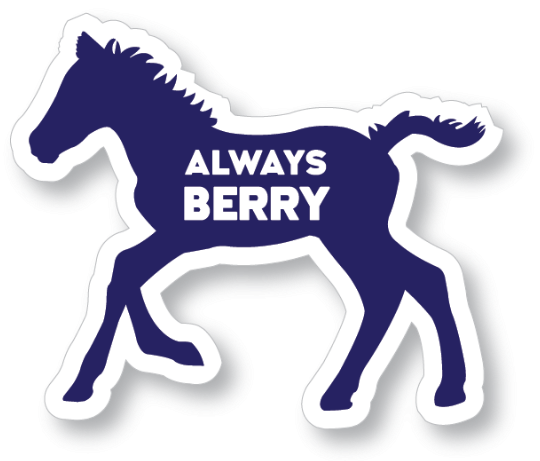 Introducing the newest addition to the "Always Berry" animal magnet family, the baby horse!
When you make a gift of $5 or more to a crowdfunding project, we'll send you this exclusive outdoor magnet to add to your "Always Berry" animal magnet family!
Find out where your gift will go the furthest with crowdfunding today.

Join Berry Alumni Connect
Create your account today!
The Networking Portal for Alumni and Friends
Interested in building your professional network? Wondering what Berry alums live in your area? Maybe you'd like to reconnect with a classmate? If you're looking for fellow Berry Alumni, look no further. Berry Alumni Connect is the online community platform for your career and personal connections.

COVID-19 Policy for Alumni Events
Q
What COVID-19 precautions are required at Berry alumni events?
A
At this time, Berry is not requiring the use of masks in public indoor spaces. However, we encourage individuals with greater health risks and COVID-19 concerns, including those who are not vaccinated, to wear protective masks as appropriate.
For more information, visit: www.berry.edu/healthytogether

Updated February 17, 2022
@BerryAlumni
Join the conversation on social media by using #AlwaysBerry