Sound Advice
Paul N. Clark (88G) has devoted his career to helping people make wise choices about managing their money and giving strategically. It was no surprise then that when he was ready to make a charitable gift, the founder of Mill Capital Management LLC followed his own advice, naming Berry College the beneficiary of his IRA.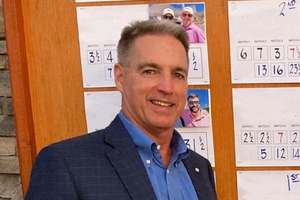 "Making a contribution using your retirement fund is a good way to give because of the tax benefits," Paul said. "If you compare the income or estate taxes an individual would pay to being able to make a nice gift to a nonprofit tax-free, you'll see it's a great way to leave a legacy."
Ultimately, Paul's gift will support the scholarship started by his parents in the 1990s. Initially named to honor Percy N. Clark, Paul's father, the scholarship became even more meaningful in 2001 when his brother George, a 1976 Berry graduate, died. The fund then became known as the Percy N. Clark and Family Scholarship in memory of George Clark.
Paul came to Berry in 1986 as an MBA student after becoming familiar with the college through George, and their sister, Cynthia Clark Gullett (78c). While here, he worked with Dr. Bob Pearson, then athletic director, to start and coach Berry's first golf team. It was an opportunity that paid unexpected dividends.
"My Berry education combined with starting the golf team helped me prepare for starting my own business," Paul said. "It helped me build the self-confidence that I could take my experiences in banking and at Berry out into the world and do well."
Paul's life circled back to Berry again when his son, Press Clark (18C), enrolled and joined the golf team. Paul got to know golf coach Brian Farrer and was invited to join the Berry Parents Council. Since that time, Paul has stayed close to Berry, making gifts to increase his family's scholarship, helping create a clubhouse at nearby Stonebridge Golf Course for Berry's golf team, and encouraging prospective students in his area to consider attending Berry.
"In my career, I've found that most people want to give to their alma mater," Paul said. "As they begin to reach retirement age, they become more thoughtful about leaving a legacy, but I also like to encourage young people to start giving early. Get in the habit of giving whatever you can, $100, $200 a year even, that way you stay connected. Then, when the time comes to leave your legacy, you can build upon what you've started."